Frequently Asked Questions
If you have questions before or during your installation, contact our Customer Service Department at (208) 612-8725. If you have questions after your installation, contact your internet service provider. They will assist you with any issues you may be experiencing.
If you want Wi-Fi throughout your home, you need a wireless router. Idaho Falls Fiber does not provide routers, so you need to provide your own. Be sure to purchase a router capable of handling at least one Gigabit of speed. Customers should also contact their internet provider about router options. Some providers may have specific requirements.
An Optical Network Terminal (ONT) is the only standard equipment we install. If you order telephone service, a telephone adapter (TA) will also be installed.
The ONT needs to be installed near a power source. We recommend that it is installed out of the way, where it cannot be easily tampered with or damaged, but is still accessible to you or a technician. The ONT is mounted to the wall. Many times, we install in utility rooms, garages, and home offices. The inside equipment covers roughly 16 × 12 inches.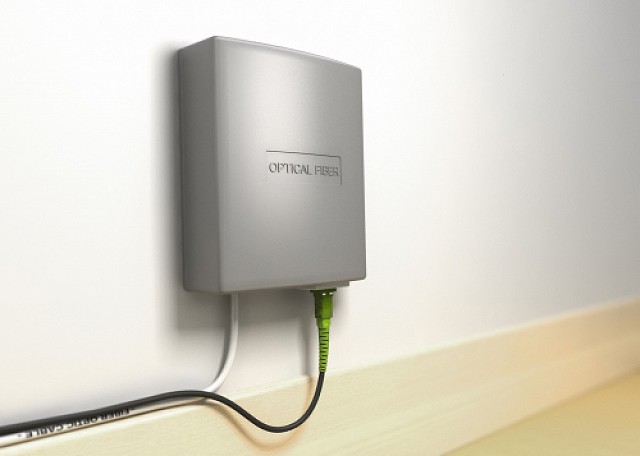 Each potential Fiber address has been previously engineered and assigned as overhead or underground. How we run our fiber into your home typically is determined by how the power enters the home.
Overhead Installation:
If your utilities run from power poles into your home, our crew will typically follow those power lines as well. Simple as that. Your installation can be scheduled as early as the next day depending on availability.
Underground Installation:
Two different crews will do the install in two steps. The first crew will trench and install conduit prior to the services installation. The second crew will run the fiber from the Fiber box through the conduit to the inside of your home and install any necessary equipment in your home. They will also test your speeds to make sure everything is running smoothly and set up correctly.
A site survey is a free walk-through service where one of our team members will walk you through where the fiber line will run on your property. They will also determine where to install our equipment in your home.
Yes. Residents can connect in the future without having to have ever been connected before.
No. The only time a resident is charged is if they are connected to the fiber network. Residents do not have to pay for the installation of the fiber network in the area.
UTOPIA is a Utah-based not-for-profit entity, similar to Idaho Falls Power, that is partnering with us to help design and engineer the residential network infrastructure. They are NOT an internet service provider.
Local internet service providers! A public-private partnership was established between Idaho Falls Fiber and local internet service providers. Local internet service providers will provide the data service to residents through the locally managed network. Residents will not only have access to high-speed broadband, but they will also be able to choose whichever provider and service package they desire.
Idaho Falls Power is a "not-for-profit" utility that is owned by our customers and residents of Idaho Falls. We already own utility poles, utility easements, underground conduit, and hundreds of miles of existing fiber that is used to provide the backbone connectivity for a communitywide fiber optic service with the Idaho Falls Fiber Network. Because of this existing infrastructure, we can build the network for far less than what it would cost others.
Idaho Falls Power owns and operates Idaho Falls Fiber because the fiber network is an integral part of our electric system. Not only does the network provide you high speed broadband, but it also provides Idaho Falls Power the ability to do outage detection and management, meter reading, offer demand management programs, residential energy efficiency programs, and so much more…
No. Idaho Falls Power and Idaho Falls Fiber only install the fiber, and maintain and manage the physical infrastructure. Idaho Falls Power and Idaho Falls Fiber do not provide the actual internet service. Our utility has over 123 years of experience with maintaining similar reliable infrastructure.
Data transferred via fiber is transmitted by light. So to "light" fiber means to activate it or transmit data through it.
Dark fiber is a strand of unlit fiber that is available for use and is not currently transmitting data.
Fiber is distributed throughout the city in one of two ways. It is strung along poles with existing overhead power lines or it is buried underground, within existing or new conduit.
High-speed, broadband data connectivity is essential for business and economic development. It is the future of digital communication and essential for the growth and success of business, government, and education.
Fiber, or fiber optic line, is actually a thin strands of glass that are stretched to great lengths and conduct light similar to the way a wire conducts energy. The light that flows through the glass fiber carries data. A powerful advantage to fiber is that this light travels at the speed of light—making fiber the fastest available method for data delivery.
If you rent your home, landlord/owner approval is required to install the fiber optic box. You can find a landlord approval form here. Once completed, email the form to iffibersignups@idahofalls.gov. If you are in a rental home and do not have landlord consent, we will not be able to complete your install.